IDEA INTERNATIONAL Partners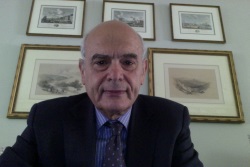 Emilio Sacerdoti
,
President, worked for more than three decades at the International Monetary Fund (1975-2009) mostly on developing and emerging market countries as Mission Chief, Division Chief, and Advisor, negotiating adjustment programs, spearheading reforms in public finance, monetary and financial policies and public enterprises, assisting in debt restructuring, and participating and leading technical assistance missions in financial sector assessment. He has been involved in high-level negotiation with governments and international organizations, in close cooperation with the World Bank, the European Union aid programs, and bilateral and multilateral aid agencies. He previously worked in the Research Department of the Banca d' Italia (1973-75).
Since leaving the Fund, Mr. Sacerdoti served as a consultant to the World Bank, the African Development Bank, and the European Union for work on developing and emerging market countries. He has also been a consultant to the Ministries of Finance of countries in Africa and the Indian Ocean.
Mr. Sacerdoti brings a vast capital of expertise and high-level professional relationships. He works and operates in several languages, including English, French, Portuguese, and Spanish. He is an Italian national, and holds a degree in economics summa cum laude from Bocconi University in Milan (1969) and a M.Phil.(1971) and a PhD (1975) in economics from Yale University. He is author and co-author of a number of publications in monetary economics and economic development.
Ingrida Rosa
,
Vice-President, has worked for several years for public institutions in Eastern Europe, including as Senior Economist at the Central Bank of Latvia, as Economist at the Latvia's Ministry of Economy, and as consultant for the World Bank.
Her areas of expertise include international economy, macroeconomics, private sector development, and infrastructure. She works and operates in several languages, including English, Russian, Latvian, and Italian.